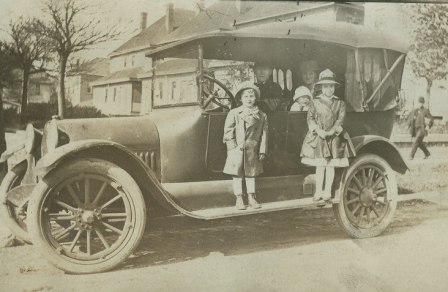 Tracings by SAM...
Discovering our Past
When a nation goes down, or a society perishes, one condition may always be found; they forgot where they came from. They lost sight of what had brought them along. -- Carl Sandburg


HOME
GETTING STARTED: SAM'S TIPS
FAVORITE GENEALOGY WEBSITES
SITE MAP
CONTACT ME

Bookmark this site
if you like what you see!
JOHNSTON FAMILY HISTORY
Family Stories, Photos, and Documents

In 1906, Edward Reymer Johnston, of Plymouth, Ohio, married Anna P. Weber, a daughter of Jacob and Susanna (Kress) Weber, also of Plymouth. Edward's mother was Hannah Kuhn, a descendant of Peter Kuhn of Greencastle, Pennsylvania. In 1924, Edward and Anna, along with their three children, moved to Fort Wayne, Indiana where they remained for the rest of their lives.

Peter Kuhn of Greencastle, PA and his descendants

Peter Kuhn (1748-1807) of Greencastle, Pennsylvania: His 18th century homestead is now a Bed and Breakfast Inn
History and Roster of the Peter Kuhn Family in the USA
published in 1932
.
History of Richland County, Ohio,
written by A. J. Baughman (Chicago: Clarke Publishing Co., I908)
Peter Kuhn's son Samuel Kuhn and his wife Catherine Smith had twelve children. Five of these children settled in Richland County, Ohio: Sarah, Samuel, John, Fanny and Jacob. Family history is recounted in the biographical sketches of John Kuhn, son of Samuel and Catherine Kuhn, and Peter Kuhn, a grandchild of Samuel and Catherine, on pages 767-768 and 800-803 of this volume.
Family of Jacob and Susanna (Kress) Weber of Plymouth, Ohio
John Johnston: From Cavan County, Ireland to Plymouth, Ohio
Sources for information given on the pedigree charts listed above available upon request
Profiles of Those Who Served in War


More material will be added in the future. Please return.