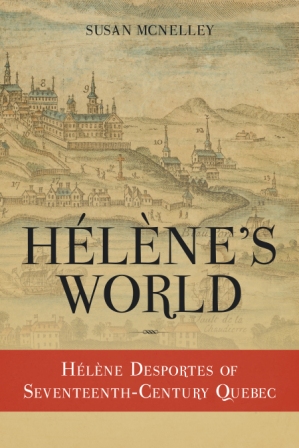 Hélène Desportes, born in 1620, was the first child of French parents to be born in Québec and to survive. For nine years, she lived in Samuel de Champlain's Habitation. In 1629, the little settlement was captured by the English. Hélène, along with the majority of the other French settlers, was put on an English ship and taken to France. She returned to Québec in 1634 and spent the remainder of her life in the little colony. She was married twice, had fifteen children, and seventy grandchildren. No portrait of Hélène exists. There are no letters, no diaries, no memoirs to guide the biographer. Nevertheless, there are a number of public records and other primary sources from which we are able to piece together the outline of her life. This, then, is her remarkable story, set against the backdrop of France's attempts to establish a colony in the New World along the banks of the St. Lawrence River.
Learn more about the world of Hélène Desportes and the other French-Canadian pioneers in this thoroughly researched book which includes nearly seven hundred source citations and notes.

Read excerpts from the book:

Hélène Desportes of Early Québec: Her Years of Exile in France



Midwives of Early Québec





Weather -- A Formidable Foe for the French-Canadian Pioneers





The Scourge of Smallpox ... Did Guillaume Hébert Die of the Disease?



Listen to the author's podcast interviews on
Maple Stars and Stripes:
Hélène's World -- Part I (Episode 020)
In Introduction to Hélène Desportes
and a discussion on researching life in 17th-century Québec.
Hélène's World -- Part II (Episode 033)
Survival and Relationships with the Native Americans
in 17th-century New France
Hélène's World -- Part III (Episode 043)
The role of Religion in New France
Hélène's World -- Part IV (Episode 056)
Health and Sickness in New France

Susan McNelley has long been interested in women's stories, particularly those occurring in other places and in other times. She has also been researching family history for some thirty years. A few years ago, she was able to trace her personal ancestry back to seventeenth-century Québec and to Hélène Desportes. Thus began a quest to learn more about what life was like for the early colonists. Hélène's World, meticulously researched and documented, is the outcome of this effort.

List Price of Paperback: $19.95

Available on Amazon.com



Beginning in May 2017: Purchase as a Kindle eBook for $9.95




Both versions of the book are also available for purchase in Canada at
Amazon.ca
More about the book:
Paperback: 350 pages
Publisher: Etta Heritage Press, June 17, 2013; Second printing September 2014
Language: English
ISBN-10: 0615738591
ISBN-13: 978-0615738598
Product Dimensions: 9 x 6 x 0.9 inches
All rights reserved. www.tracingsbysam.com