HOME
GETTING STARTED: SAM'S TIPS
FAVORITE GENEALOGY WEBSITES
GILMAN FAMILY HISTORY
My French-Canadian Ancestry!
SITE MAP
CONTACT ME
---
A series of podcasts with
great tips and resources
for researching your French-Canadian ancestry.
A wealth of information!
Learn more. Click here.

Montréal:
La Grand Recrue of 1653
Do you have French-Canadian ancestors who settled in the vicinity of Montréal in the 17th Century? Might they have come in the Great Recruitment of 1653? Find out by visiting the website of the

Maison Saint-Gabriel in Montréal. Go to the Museum section. Click on

Chronicles from Yesterday to Today

. Scroll down to The Great Recruitment to learn more about the history and for a list of the men and women who were part of this effort.

More about Montréal:

The city's beginnings were anything but auspicious. In 1650, eight years after it's settlement, there were still only about fifty settlers. "It is a wonder that they have not been exterminated by the frequent surprises of the Iroquois bands, which have many times been stoutly resisted and repelled. Monsieur de Maisonnueve has maintained that settlement by his good management."

(
Jesuit Relations, as quoted in Hélène's World: Hélène Desportes of Seventeenth-Century Quebec)
The summer of 2013 marked the 350th anniversary of the arrival of the filles du roi (the King's Daughters) in Quebec.

Click here for more information on these women.

Acadian Ancestry?
www.acadian-home.org
This site was developed by Lucie LeBlanc Consentino, noted Acadian genealogist and historian. It contains extensive resources for those who trace their ancestry back to the French who settled in Acadia in the seventeenth century.
---
Click here

for a
photo of the
plaque in Québec listing the
first French-Canadian settlers
.
Click here for the
Census of Montréal in 1666

.
The population of Montréal
had grown to 627 inhabitants.
ONLINE RESOURCES FOR RESEARCH ON THE
FRENCH-CANADIAN PIONEERS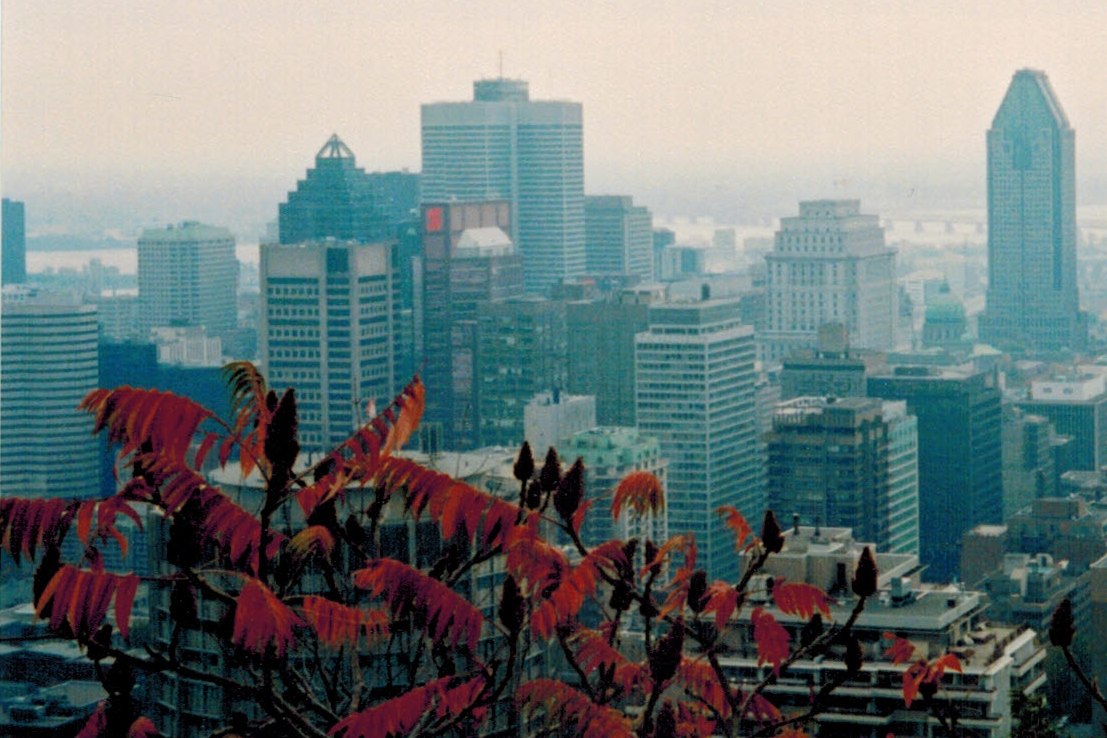 Montréal in the 21st Century
A view of the skyline from
Mont Royal

In 2017, Montréal celebrates the 375th anniversary of its founding. Lots of celebrations are planned. A good time for family historians to visit the city!



___________________________________________________________

Historians tell us that there were altogether only about one thousand married women living in Québec between 1608 and 1680; fifty years later these women had produced fifty thousand descendants.
Today, these same one thousand women and their husbands supply approximately two-thirds of the genetic makeup of six million French Canadians. (Charbonneau et al, The First French Canadians: Pioneers in the St. Lawrence Valley, 205.)
Around the world, the vast majority of those who claim French Canadian ancestry can trace their family roots to one or more of these pioneer families.
RESOURCES FOR RESEARCH

Do you think you might have a

Voyageur, or fur trader

, among your French-Canadian ancestors? Check out the Voyageur Database found on the Centre du patrimoine website. This database contains data from approximately 35,900 fur trade contracts signed in front of Montréal notaries between 1714 and 1830.
Other resources:

Programme de recherche en démographie historique (PRDH)
www.genealogie.uMontréal.ca
This is a genealogical database
compiled by the University of Montréal. It is an online database containing all the baptisms, marriages and burials in the parish records of the Roman Catholic Church in the province of Québec up to 1800, as well as the census records of 1666, 1667, and 1681. The PRDH has some 700,000 certificates in its database. Reasonable subscription fee.



Québec Records (The Drouin Institute)


www.genealogieQuébec.com

Especially useful is the LaFrance collection, which offers digital images of all Catholic baptisms, marriages, and deaths of the French settlers from their arrival to the year 1849, in the case of baptisms and burials, and to the year 1915, in the case of marriages. The Drouin Institute is now working on reconstituting families and linking with other data within the site. Reasonable subscription fee. If you are a subscriber to both the PRDH and to this site, you can search for your ancestor on the PRDH site. When you find a record you are looking for you can be transferred to the Québec Records site to immediately download a copy of the church record.
Fichier Origine
www.fichierorigine.com
The

Fichier Origine

links French-Canadian immigrants to their origins in France. There are currently more than 5,000 immigrants identified in the database. Information may include name of parents, spouse, and children; date of baptism and/or marriage; additional information on siblings and grandparents. This is a joint project of the Québec Federation of Genealogical Societies and the French Federation of Genealogy. Information is in French, but the website is fairly easy to navigate.
No charge to search and download the information.


Ancestry.com
www.ancestry.com

This site has a large number of historical records in its Canadian collection: census records; birth, marriage, and death records (including the Drouin collection); notarial records, military records; immigration records, and more.
Notarial records of Québec, 1625-1935, are found by going to the Card Catalogue, to Canada, and then to "Wills, Probates, Land, Tax and Criminal."
A paid subscription which includes the international records (currently called World Explorer) is required.


Pistard Database
Click here
The Pistard database, along with the Parchemin collection, have been compiled by the Bibliothéque et Archives Nationales du Québec, and contain notary records found in the civil archives of Québec dating back to 1626. The Pistard database is free, online, and easily searchable, although all information is in French only. Go to the above website and click on Pistard archives for the search tool. One must contact the
Bibliothéque for access to information contained in the Parchemin Database.
Dictionary of Canadian Biography
www.biographi.ca
The Dictionary of Canadian Biography offers brief biographical sketches of the explorers, missionaries, and many of the first French immigrants to the New World. This is a research and publishing project of the University of Toronto and the Université Laval, initiated in 1959. Information is online, in French and in English.
Family Search.org

www.familysearch.org
The Church of Jesus Christ of the Latter Day Saints has digitized all of the Catholic church records of the province of Québec and these scanned images are available in the Collections section at FamilySearch.org. (Note that they are not all indexed.) Free to search and to download images of the documents.


Tanguay's Genealogical Dictionary
(Dictionnaire Genealogique Des Familles Canadiennes)
Click here for the PDF version.


This volume, digitized by Google, contains genealogical information on the French who settled in Canada between 1608 and 1700. The names are in alphabetical order. Information is in French, but fairly easy to decipher. Other volumes, listing those who immigrated between 1700 and 1760 are found here.


Filles du Roi (King's Daughters) and soldiers of the Carignan Salières Regiment
La Sociétè des Filles du roi et soldats du Carignan, Inc.
www.fillesduroi.org
If you have French-Canadian ancestry, the chances are good that you are a descendant of one of the 770 Filles du Roi (King's Daughters) who immigrated to New France between 1663 and 1673. You may also be related to one of the men who came to the colony in 1665 as a soldier of the Carignan-Salières Regiment. Some 400 soldiers remained in New France, many of them marrying one of the filles du roi. Lists of the filles du roi and the soldiers may be found at the above website.

Database of Soldiers of 1759-1760
National Battlefields Commission-Plains of Abraham, Canada

Think you might have an ancestor who fought in Canada in the Seven Years War? (This was known as the French and Indian War in the United States.)
You might want to check this database of French and British army soldiers in Québec in 1759 and 1760. Includes more than 11,000 entries: some 4,000 French soldiers and some 7,000 British soldiers. Compiled by the Public Works and Government Services Canada (PWGSC), National Battlefields Commission-Plains of Abraham, Canada. Try various spellings of the name of your ancestor. For example: Jacques Agement was listed as Jacques Azema.

__________________________________________________________

French-Canadian Genealogical Societies
Located in the U.S.
In the mid 1700s, French-Canadian explorers colonized parts of North America that are now a part of the United States: Louisiana, Mississippi, Missouri, Illinois, Wisconsin, Indiana, Ohio, and Michigan. Between 1840 and 1930, another 900,000 French-Canadians immigrated to the United States. This group of immigrants settled mainly in the New England region: Maine, Vermont, New Hampshire, Massachusetts, Rhode Island, and New York. The genealogical societies listed below have a wealth of information on these immigrants and on their descendants.
American-Canadian Genealogical Society (New Hampshire)
American-French Genealogical Society (Rhode Island)
French-Canadian Genealogical Society of Connecticut
French-Canadian Heritage Society of California
French-Canadian Heritage Society of Michigan
La Société des Filles du roi et soldats du Carignan, Inc.
Northern New York American-Canadian Genealogical Society
Vermont French-Canadian Genealogical Society


September 2017


© Tracings by SAM: Copyright 2011-2016
All rights reserved. www.tracingsbysam.com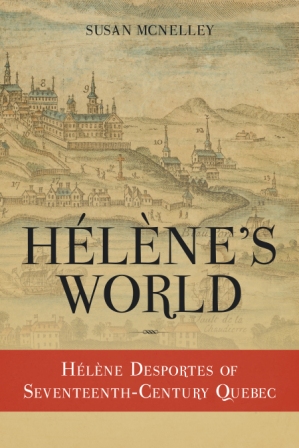 Hélène's World
Hélène Desportes of Seventeenth-Century Québec
Have you wondered what life was like for the first French to settle in Québec? If you have a family line that goes back to the French-Canadian pioneers you will want to read this book.
For more information on the book,
click here.
---
Read excerpts from Hélène's World:


Midwives of Early Québec
Hélène Desportes
of Early Québec:
Her Years of Exile
in France
Weather -- A Formidable Foe for the French-Canadian Pioneers
---

The Roman Catholic Church significantly influenced the development of the French colony in the New World ... in ways you might not have considered. Listen to the podcast on Maple Stars and Stripes.



For documents &
stories on my French-Canadian ancestry,
Click here.
We might well share an ancestor!

---
Soldiers of the Carignan-Salières Regiment


In the summer of 1665, ships carrying
1200 soldiers of the Carignan-Salières Regiment arrived in Québec to defend the colonists against attacks from the Iroquois. After what was considered a successful campaign to subdue the Iroquois, the majority of men returned to France in 1668. However, about 450 remained to help populate the colony.
For an alphabetical listing of the officers and soldiers of the regiment,
click here
.